Tres Orix Forte Oral Solution Vitamin supplement/weight gain 250 ml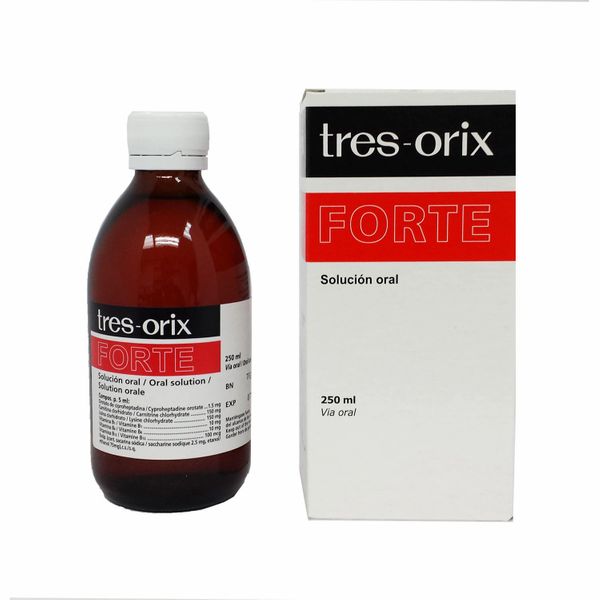 Tres Orix Forte Oral Solution Vitamin supplement/weight gain 250 ml
Tres-Orix FORTE
Oral Solution 100ml
Composition Per 5ml of solution
Cyproheptadine orotate 1.5 mg
Carnitine chlorhydrate 150 mg
Lysine chlorhydrate 150 mg
Vitamin B1 10 mg
Vitamin B6 10 mg
Vitamin B12 100mg
Coenzyme B12 --
Excipients, s.q. (Containing 2.5mg of saccharine sodique and 75mg of ethanol)
Pharmaceutical forms and contents
Solution for oral use. Bottles of 100 ml.
Properties
The components making up the formula of Tres-orix Forte, constitute for the first time the ideal pharmacological response to a clinical problem of such frequency and such social repercussions as is the loss of appetite, motivated by many causes both organic as well as psychological.
The Cyproheptadine orotate, of original Prodes synthesis, by acting selectively on the hypothalamic centre of the appetite, starts up the neurovegetative mechanisms which diminish the "fullness threshold", at the same time lacking side effects on account of its in being in the form of an orotic salt.
In Tres-orix Forte, two aminoacids, already well experimented and with excellent results, are added to this orexigenic drug. Carnitine chlorhydrate on account of its positive action on weight gain and lysine chlorhydrate on account of being one of the aminoacids which cannot be synthesized by the organism and which is the great supplier of the fundamental amino groups for the metabolism, such action also being reinforced by the presence of the vitamins of the B group, of well-known tonic and energizing properties.
Indications
Anorexia in children and adolescent, whether of and organic or emotional-psychological cause post infections anorexia. Deficiency anorexia. Retardation in growth. Anorexia of the infant, Habitual vomiting(excluding when of an organic origin). Emotional instability when accompanied by anorexic crises. Anorexia of the adult Constitutional thinness.
Contraindications
Hypersensivity to the components, Glaucoma, Predisposition to urine retention, Newborns.
Incompatibilities
Tres-orix Forte should not be administered simultaneously with other medicines which are Central Nervous System depressors.
Warnings
Warnings on Excipients
Tres-Orix Forte Oral Solution:
It contains ethanol as excipient, which can be cause of risk in patients with hepatic disease, alcoholism, epilepsy and in pregnant women and children.
Dosage and administration
Adults:
a) Capsules: One before each of main meals(3/day).
b) Oral solution: Two teaspoonfuls of 5 ml before breakfast, lunch, and dinner.
Children:
Infants: Two teaspoonfuls of 2.5 ml daily, distributed in two intakes.
Up to 7 to 12 years old: One teaspoonful of 5 ml before breakfast, lunch, and dinner, or one capsule before breakfast and one before dinner(2 days).
These doses are approximate, indicative doses, as it is known that responses to the preparations of this group are different according to individual idiosyncrasies of each patient. This appearance of drowsiness is a good sign for calculating the dosage and is even desirable it slightly appears in nervous children because their psychic condition improves simultaneously. However, drowsiness tends to disappear a few days after treatment is begun.
The effects of treatment are usually observed between 4 and 10 days after administration is initiated. Treatment can be administered for periods of one or two months with rest periods of 15 days to 1 month, without any undesirable side effect having been noticed nor any alteration of the humoral constants.
Overdose
At therapeutic doses, there is no risk of intoxication. In the event of a massive accidental ingestion, the patient should be kept under strict observation and symptomatic measures should be taken.
Undesirable effects
In adults drowsiness can occur, for which reason cautions is recommended in driving or in performing tasks requiring alertness.
If you notice any side effects not mentioned in this leaflet, please inform your doctor or pharmacist.
Shelf life
Do not use this drug after the expiry date given on the package.
Neither all presentations nor all pharmaceutical forms are available in all markets
Under medical prescription
Keep out of the reach of children